Bus Reimbursement Available
Emmet County schools can seek reimbursement for busing costs through the Petoskey-Harbor Springs Area Community Foundation. For more information, please call (231) 348-5820.
Schools within all other counties of the Conservancy's service area (Charlevoix, Cheboygan, Mackinac, and Chippewa) can receive a $50 reimbursement for busing costs through a special fund held with the Conservancy.
The nine different theme-based discovery boxes are a fun, interactive way to involve your students in specific science-based lessons. Each pack includes hands-on materials such as animal furs, skulls, books, CDs, and videotapes for teachers to use at their discretion.
Each box comes with detailed lesson plans, activities, and background information on each topic. All of the boxes meet the Michigan Curriculum Framework Standards, which are listed on each lesson plan. The teacher can borrow the boxes for up to two weeks, or a Conservancy Naturalist can be scheduled to present a box to your classroom.
Suggestions are always welcome! Boxes are loaned at no charge.
Call one of our educators at (231) 347-0991 to reserve a Discovery Box or Program-to-Go. These resources are available for teachers throughout the Little Traverse Conservancy service area of Mackinac, Chippewa, Emmet, Charlevoix, and Cheboygan counties.
All About Birds
Knee-High Naturalist Box
Geology Rocks
Michigan Mammals
Michigan Gray Wolf
Owls and Their Prey
Skulls, Bones, and Adaptations
Insects
All About Birds
Five resource kits from the Cornell Lab of Ornithology and additional materials make it easy for educators to integrate into their schedule. The kits include step-by-step instructions for completing each lesson and resource materials, which may consist of posters, DVDs, CD-ROMs, laminated cards, games, quizzes, scavenger hunts, trivia sheets, and more.
Also, several books, a DVD, feather examples, egg replicas, nest examples, field guides, and two pairs of binoculars are included. This Discovery Box is made possible through generous donations and assistance of LTC volunteer and bird enthusiast Mary Trout.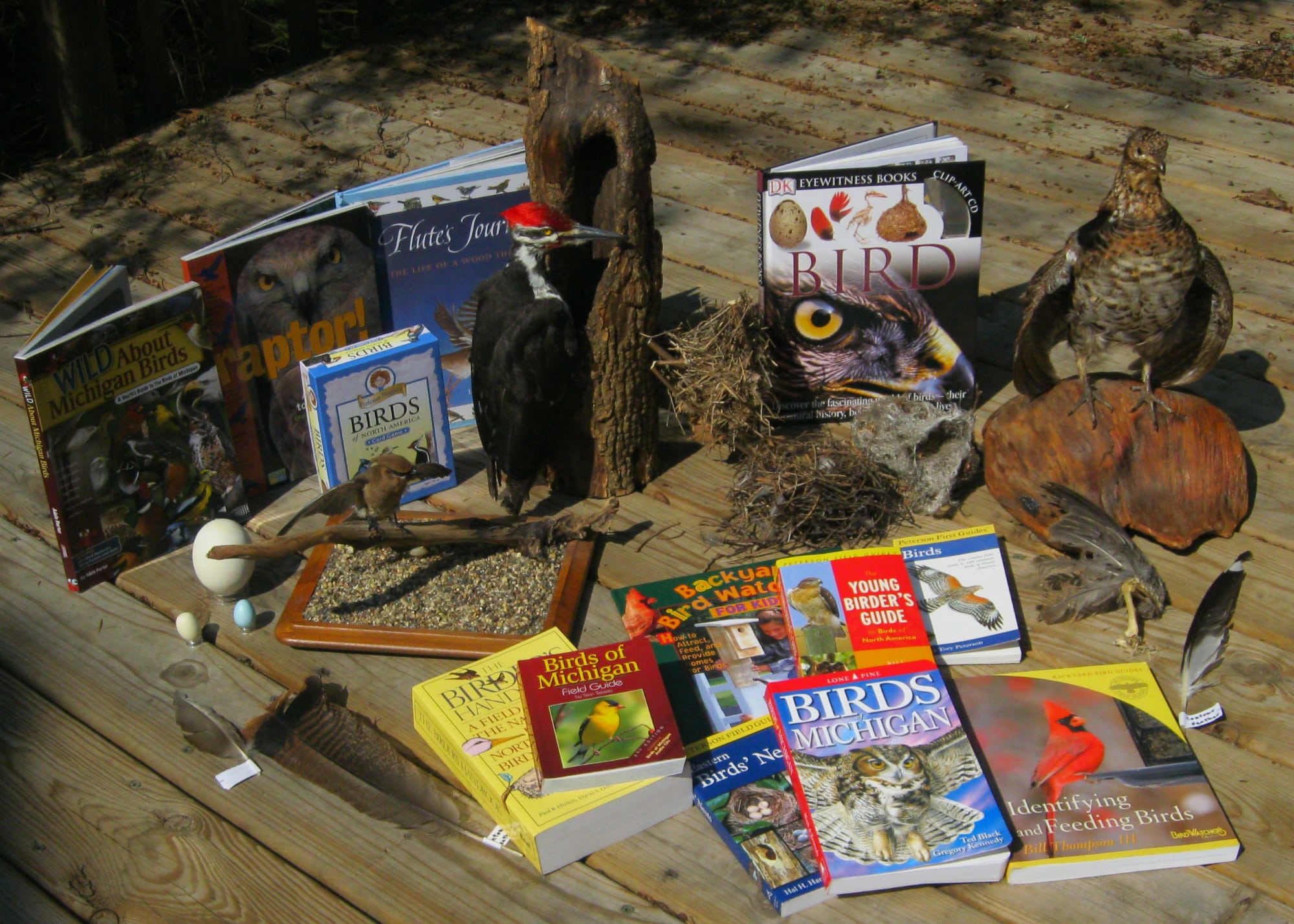 Knee-High Naturalist Box
Geology Rocks
Michigan Mammals
Michigan Gray Wolf
Owls and Their Prey
Skulls, Bones, and Adaptations
Insects
The Conservancy staff has made some of our most requested programs available for teachers to conduct independently by providing all materials needed for these programs.
Dirt Makers
Conservancy education staff have made their popular Dirt Makers program available in a "To-Go" form. Designed for teachers who feel confident conducting this program without an LTC naturalist present in your schoolyard or natural space, this kit is filled with everything you'll need!
Supplies include Teacher's Guide, log worksheet, magnifiers, collecting jars, identification guide, pencils, books, and clipboards. Give us a call at (231) 347-0991 for more information.
Buggin' Out